I am starting a nail-o-thon with all the nail polishes that I won lately ! Ladies, let me introduce you to the vampy : Tulipe noire (translation : black tulip) from Peggy sage. I played it lazy and just did 1 coat to prevent it from being too dark... I love so much those kinds of plummy colors !
Then if you can see the new button on the right of my blog, I'll try and follow the tradition of the
Awkward and Awesome Thursdays
, initiated by
Sydney
...Go and read that blog, it's hilarious and witty !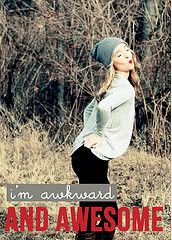 Awkward :
- being at Sephora and trying to avoid a SA that mismatch my color foundation ... BIG time : I am snow white and she matches me with J-LO. I didn't want to hurt her feelings, so I end up whispering to another SA if I can change the bottle and the SA whispers back in a really noisy Sephora...
- waiting in line in a H&M and starting the weirdest conversation ever with a total stranger : I swear in 5 min I knew everything about her childhood. Excusing myself to go to the cash because she doesn't want to stop the conversation...and rushing out of the store because I have the impression she wants to develop our new friendship !
Awesome :
- Receiving a huge package from a give away I won this week...I still can't believe it !
- Seeing my kids enjoying Harry Potter : They open the doors
saying "
Alohomora", they fight with "Petrificum totalum". Thank you Mrs Rowling for bringing your magic to my kids' world
- The sales : huge , this year ...not sure that's awesome for my wallet but my closet is very happy
- discovering new blogs everyday and enjoying the ride
Caro-reducium bottomum xxx (not working yet ...working on it !) xxx